"Alexa, where is my package?"
Whether via Amazon, USPS, DHL, UPS, FedEx, or any other mode of transit, today's consumers have real-time visibility into the location of their orders and deliveries at their fingertips. But something not as visible to the consumer, the "Amazon effect" has added a new layer of complexity to supply chains, forcing all companies engaged in shipping to invest in the last mile.
Supply Chain Challenges
The challenges of meeting customers' new expectations have been compounded by the shift to e-commerce, geopolitical issues, and, most recently, COVID. The supply chain's exposure to vulnerabilities, including product shortages, labor shortages, demand fluctuation, and routing issues, is now more apparent than ever to the average consumer.
Until recently, the whereabouts of a shipment before it reaches the last mile had been hidden behind an opaque supply chain that ran on paper- and phone-based systems, risking delays and loss. Complex supply chains — often multi-modal, multi-geo, and multi-vendor — and long transit times and connectivity challenges in remote areas have made it difficult to achieve in-depth visibility.
The Need for End-to-End Visibility
In the past four or five years, however, shippers have been at the forefront in driving the transition to end-to-end supply chain visibility. It's been a matter of both need and viability: The tracking only works if sensors are on shipments from the beginning of the supply chain, and it serves as a selling point for their customers. Walmart, for example, recently mandated 98% OTIF (on-time, in-full) compliance to their suppliers, necessitating real-time visibility into the location, condition, and accurate arrival times of the shipments.
The journey towards complete supply chain transparency started with telematics and ELD devices to track drivers and trucking fleets. Still, this solution was imperfect in the realm of accuracy, conditions, and frequency of tracking. Real end-to-end visibility requires the location to be tagged to the shipments themselves, rather than the mode of transportation and requires item tracking as they transition from shipments to inventory. It also requires more than just location data for contextual visibility, exceptions, and dynamic/real-time route planning.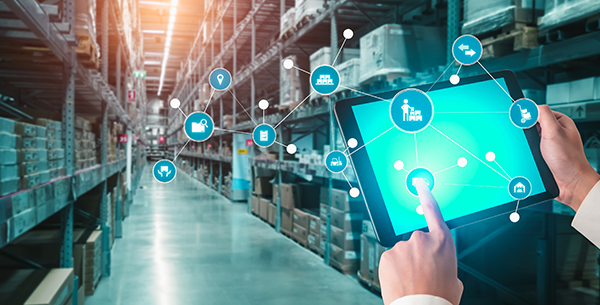 A New Era Emerges
IoT and its enabling technologies (including 5G networking and edge computing) are giving rise to a new era of supply chain visibility.
Today shippers can use trackers to see real-time location and conditions even in low connectivity zones, such as on a trans-Atlantic ship with only 2G connectivity. Shippers also have access to a wide range of sensor types and form factors. For example, for produce or pharmaceuticals, they might use trackers that specialize in precise temperature tracking. For large or expensive items, they might use sensors that can detect movement and vibration.
These trackers provide value beyond just understanding the conditions and locations of shipments. Customers can set up signals and alerts for their particular needs, such as monitoring whether cold chain shipments have gotten too warm. Some platforms enable enterprise customers to improve demand forecasting, inventory turns, cash conversion cycle, loss prevention, and, ultimately, superior customer service.
Qualcomm Technologies, Inc. recently launched seven new IoT chipsets for next-generation devices targeting key markets, including transportation and logistics. These next-generation solutions deliver advanced edge-AI performance, innovative power efficiency, 5G connectivity capabilities, and enhanced features for processing and security from entry-level to premium tiers.
At Qualcomm Ventures, we are interested in startups that are enabling this transition. We are humbled by the quality of startups addressing this problem, from sensor companies that provide the initial entry point for data to be collected through, to visibility platforms that offer end-to-end real-time visibility, dynamic route planning, and exception handling.
Supply chain technology has attracted significant investments over the past few years, from $6 billion in 2015 to around $12 billion in 2020 (as per Pitchbook's Q1 2021 VC update). We are doubling down in this space following our investments in Wiliot, Airspace, and more recently FourKites (one of the leading supply chain visibility platforms), Locus (a last mile planning and optimization platform), and Cobli (an IoT fleet management platform). We are continuing our exploration of this space both in terms of core technology and all facets of its enablement.
The Future of Supply Chains
In the future, we expect a convergence of IoT, AI, and RPA (robotic process automation) that will continue to optimize the supply chain. Specifically, we expect a move from cloud analytics to embedded/edge machine learning to enable real-time pattern recognition, predictive action, and digital twins that will help to better manage the supply chain.
On the hardware side, we expect the price of sensors (and by extension trackers) to continue to drop, leading to a considerable increase in demand. Finally, we expect improved unit economics to drive a shift from pallet-level to unit-level tracking, enabling true end-to-end visibility of unique items.
Supply chains are on the cusp of a data-driven revolution, and we're excited to support the entrepreneurs working in this space. If this is you, please reach out — we'd love to speak with you!