Today, we are thrilled to announce our investment in DeepHow's $9M pre-Series A round. Founded in 2018 by a team of ex-Siemens researchers and engineers, DeepHow is an AI-powered platform that can accelerate skilled worker training in manufacturing, service, and construction industries by streamlining know-how capturing and knowledge transfer. It's a mobile-enabled, video-centric product solution: After first recording experts' workflow with a phone or tablet, the AI platform will index and segment videos into key steps and automatically generate step-by-step "how-to" videos with powerful features such as multi-language transcription and in-video search and recommendation. Within two years of launching and with less than $3M in funding, DeepHow has deployed to over 100 sites in 24 countries and formed close partnerships with Stanley Black & Decker and Anheuser-Busch InBev.
Why did we invest and why now?
When considering an investment in applied AI startups, we look at several key parameters, including market potential, the "problem" they're solving, their proprietary solution, and whether the team has strong industry domain expertise and go-to-market advantage. In DeepHow's case, we felt they were strong in each of these areas.
Strong market need
In today's manufacturing world, 90% of manufacturing skills are transferred through an apprenticeship model and paper-based standard operating procedures. Yet, rapid changes in technology and a shortage of skilled workers are creating a skills gap. In the US, there are approximately 3.6 million experts approaching retirement yearly and 7 million unfilled skilled trades jobs. The classic apprenticeship model, where an inexperienced colleague looks over the shoulder of an experienced peer, is inefficient and hierarchal. Meanwhile, video-based learning can be much more effective than manuals and is a preferred learning method for millennials. As a result, we saw companies have a need to capture the know-how of experienced workers in an efficient way, before losing them to retirement or another company. In addition, the in-house production of a one-minute training video takes roughly one hour and can cost $500 or more. An efficient video-based solution is urgently needed.
Large and growing total addressable market
After interviewing several manufacturing and industrial customers, we understood the market opportunity was big. Immediate customers of a smart video-based solution could capture at least $6B in total addressable market, primarily from sectors including auto, food & beverage, chemical, construction, and more. And it is a global opportunity, too, with manufacturing workforces totaling 12 million in the US, 8 million in Germany, and over 110 million in China*.
The solution
DeepHow uses AI to streamline know-how capture, workflow indexing, and segmentation (including the most time-consuming phases of video creation: editing and subtitling) at one-tenth the time of traditional video production. This approach also accelerates the rate of knowledge transfer with smart, how-to training videos that boost employee performance by 25%. With the data captured, customers can create a mobile reference library of knowledge that can be accessed remotely, giving technicians the tools to be safe and productive when on the job.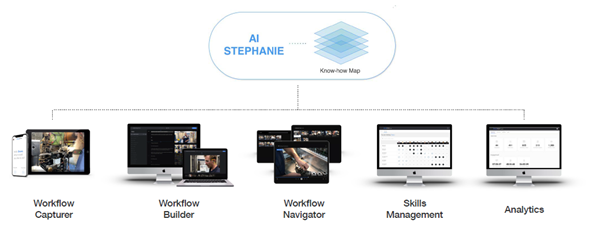 DeepHow's solution fits a variety of use cases, including capturing expert "know-how," video standard operating procedures, workforce training, safety training, and workforce skills management.
In addition, the more videos a company generates, the more DeepHow can help customers establish an institutional content library by generating knowledge graphs with its accumulated amount of data. All the indexable videos can create a powerful knowledge network effect for customers.
The team
DeepHow has an outstanding team with decades of domain expertise and go-to-market know-how: Incubated at Siemens, this cohesive founding team not only has strong industry domain knowledge but is also well connected with large manufacturers. We are thrilled to join in this investment with Sierra Ventures, Osage Ventures, and Stanley Ventures.
For Qualcomm Ventures, the investment in DeepHow aligns with our expertise in AI, IoT, and connected devices. Applied AI is driving digital transformation in industrial and service industries. Furthermore, there's potential for DeepHow to leverage Qualcomm's Audio and Voice Communication Suite with echo cancellation noise suppression (ECNS) algorithms on dedicated mobile devices for their "know-how" video capture. In addition, technologies such as 5G and AR/VR can enable smooth, no-latency, and vivid video transmitting experiences.
Industry 4.0 and the digitization era is coming. We warmly welcome DeepHow to the Qualcomm Ventures family and are excited to support them on their journey!
*Sources: PitchBook Database; IBIS US industry reports; Construction Machinery Manufacturing in the US; etc.
https://www.dol.gov/agencies/eta/apprenticeship/about/statistics/2020
https://www.dol.gov/newsroom/releases/eta/eta20200918
2019 United States Manufacturing Facts
(Note: Numbers were calculated based on raw data)
Qualcomm products mentioned within this post are offered by Qualcomm Technologies, Inc. and/or its subsidiaries.