The world is becoming more connected than ever, driven by a continuous wave of technological innovation and an incredible demand for things to become more intelligent and connected—with the intelligence moving from the data center to the connected devices. The proliferation of 5G, advanced processing and AI will only accelerate this trend by enabling billions of smart devices at the network edge to be connected to the cloud 100 percent of the time, creating what we refer to as the Connected Intelligent Edge. Qualcomm stands at the heart of this always-on, intelligently connected opportunity: developing the technologies that bring connectivity, data processing, and intelligence to the edge. At Qualcomm Ventures, we're helping to drive this vision by investing in innovative startups that are transforming industries in the areas of 5G, AI, Auto, IoT and XR.
While the global pace of venture investments slowed in 2022, Qualcomm Ventures remained active. We welcomed 17 new companies to our portfolio and had several notable exits. We're also proud of the many companies in our portfolio that have reached unicorn valuation, including Augury, CargoX, Cohesity, Fourkites, Nuvemshop, SiFive, Plume, Viva Republica—and all the others to follow.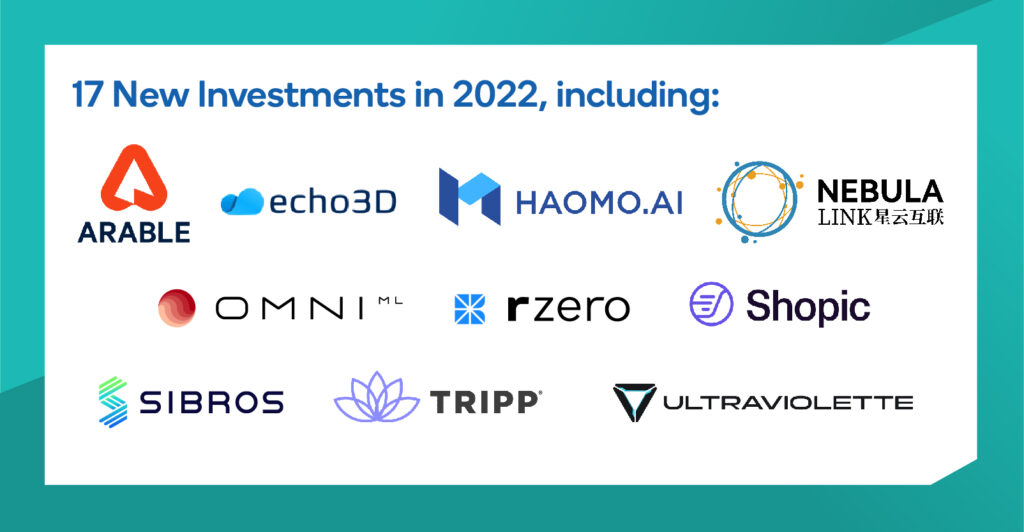 Here are some highlights:
AI continues to evolve, and we've been most excited about companies in the areas of ML Ops and edge AI.
The automotive sector saw significant transformation this year, driven by cloud connectivity, advanced driver assistance, new mobility services and intelligent transportation systems. A few auto companies we invested in this year are:
There continues to be momentum in the IoT market, particularly in industrial, retail and agriculture. Our recent investments reflect these trends, including:
The Metaverse continued to attract investor interest. As the content ecosystem for the Metaverse grows, so will widespread adoption. To that end, we launched the Snapdragon Metaverse Fund to help accelerate the content ecosystem and the next generation of spatial computing. Through that fund we invested in:
We're also proud of the many companies in our portfolio that had successful exits in 2022, including Pensando, acquired by AMD for approximately $1.9 billion and Cellwize, acquired by Qualcomm Technologies, Inc. We're grateful to have had the opportunity to work with the founders and innovators behind those companies throughout their successful journeys.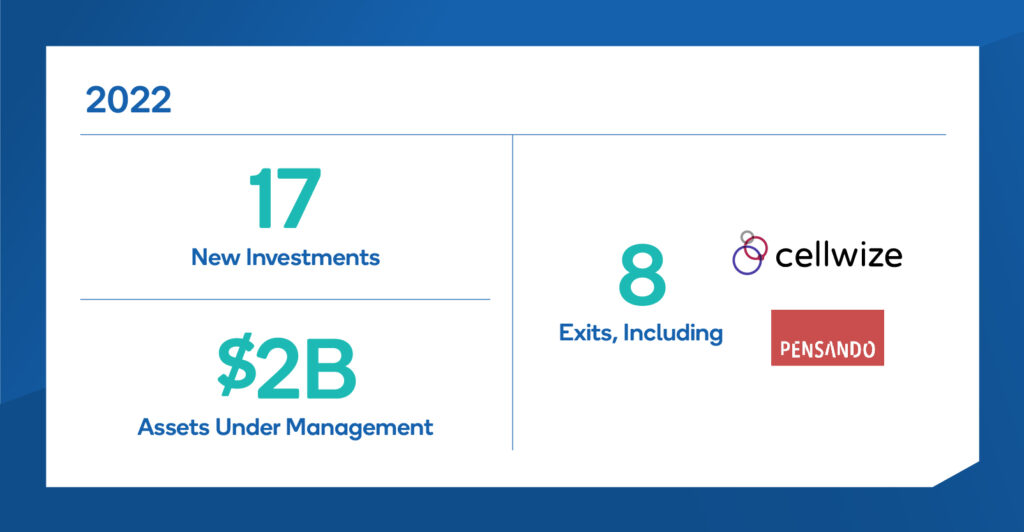 In 2022, we also reconvened our CEO Summit, held at the iconic Torrey Pines. We were thrilled to welcome 300 portfolio CEOs/founders, investors, partners and Qualcomm leaders to discuss innovations and opportunities across 5G, AI, Auto, supply chain, retail and the Metaverse. Fostering connections with leading technology companies and partners is a key value add we provide to our portfolio companies, and we were able to facilitate over 300 one-to-one networking meetings. As part of the conference, Qualcomm CEO Cristiano Amon and CFO Akash Palkhiwala presented on the company's strategy and how Qualcomm is driving transformation and powering connectivity at the edge.
Looking Ahead to 2023
As we enter the new year, we will continue to invest in startups innovating in the areas of 5G, AI, Auto, IoT and XR and to support our portfolio companies in scaling their business. We are confident that this year remains a great time to invest in innovative companies with compelling value propositions and strong business models. Thank you to our community of founders, CEOs, and industry partners for the opportunity to work together and grow. We're looking forward to collaborating in 2023!