Mathew Elenjickal is an accidental supply chain innovator.
When he graduated from Northwestern with a master's degree in industrial engineering and management science, he was ready to move to Seattle and take a job with an enterprise software provider. But at the last minute i2 Technologies, the supply chain management company, convinced him to stay in Chicago and work for them. His first project was helping Anheuser-Busch optimize routing for their delivery trucks, and it was a big success. He also saw just how sprawling the supply chain space is, and how many inefficiencies were built into it. Finding ways to solve those inefficiencies became his passion.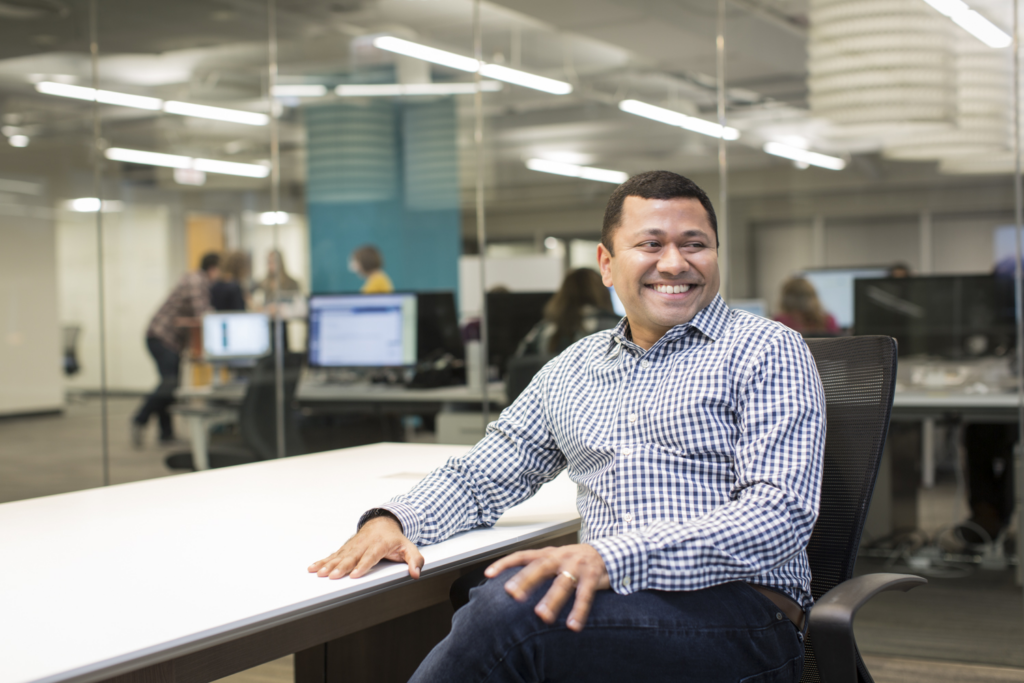 But Elenjickal always wanted to start something on his own. After seven years working on various supply chain issues at i2, and then two and a half years on supply chain products at Oracle, he realized the time was right for a transformative logistics startup. By the early 2010s, Amazon had revolutionized the B2C customer experience, creating the expectation that you would know exactly where your purchases were as they made their way to you. Elenjickal realized that kind of visibility did not exist on the B2B side. "I could order a pair of shoes on Amazon and know exactly where they are," he says, "but I had no idea where my $100,000 worth of equipment was." At the same time, big retailers were demanding just-in-time deliveries, which required suppliers to devote tremendous resources to calling shipping companies to try to track deliveries. And, finally, a federal rule that would be finalized in 2015 began requiring every commercial truck in the United States to have a GPS device. With those three elements in place, in the summer of 2014, he launched FourKites to revolutionize supply chain management.
We recently had the chance to speak with Elenjickal about his career, his influences, and how he is using technology to solve the world's supply chain problems.
How is FourKites different from other solutions in the market?
I founded FourKites to address a key gap in the logistics space — the lack of real-time visibility of trucks and shipments. When we launched the company, Fortune 500 companies, even with sophisticated systems, still struggled with the basic need for supply chain visibility. Their technologies were siloed, and that caused blind spots in internal and external communication. FourKites was the first company to apply SaaS technology to GPS-enabled electronic logging devices, enabling shippers to improve on-time delivery and optimize their supply chains based on actionable data and predictive intelligence.
Knowing where your products are is the foundation of our company, but it's only the beginning. Once you have that data, you can build a lot of applications on top of it, including smart warehouse management, real-time inventory management and much more. We're evolving toward "supply chain orchestration," and thinking about how to help our customers operate leaner, faster, and more efficiently using real-time data as the backbone. Optimization through better data is where we're headed.
We have two key points of differentiation. The first is our network. The supply chain intelligence we provide is powered by a massive global network of quality, real-time data across all geographies, modes, nodes, and signals, and available on a single, user-friendly platform, not multiple, niche solutions. We leverage patented artificial intelligence to process 150 factors—weather, traffic, and real-time data from GPS, ELD telematics networks, mobile devices, AIS, and more—to provide recommendations based on trillions of data points for every supply chain stakeholder.
The second point of differentiation is our team. Real-time visibility is a relatively new category that will continue to grow and evolve. Users should feel confident that the people defining the product roadmap deeply understand use cases and pain points and have applied that knowledge to create a thoughtful vision for an end-to-end, all-encompassing solution. At the same time, these teams should be collaborative and humble – willing to adapt and work side-by-side with customers to identify ways to improve. We bring that background, and we work that way.
What is the biggest problem in supply chain today?
Though various disruptions due to COVID-19, weather events, and other issues are undoubtedly some of the most challenging supply chain problems in recent years, I'd argue that a lack of collaboration, or siloed ways of working, poses the biggest problem.
But now we're seeing firsthand the many positive effects of collaboration based on real-time transportation visibility data. By creating a single source of truth, and with partners and even competitors all having access to that same data, we're finding efficiencies that benefit everyone. The ROI will only multiply as we enable visibility into supplies and goods from end to end. It's easy to foresee, for example, smaller importers and startups pooling their interests to more effectively compete against larger players.
It's clear that volatility is here to stay, and that every tremor affects different parts of the supply chain in different ways. Collaboration, powered by real-time visibility, are our best bets to manage through the uncertainty.
What do you think will be the long-term impact of the current geopolitical climate on global supply chains?
The current geopolitical climate has likely changed globalization for a long time to come. Even before the trade war with China, COVID-19, and then Russia's war in Ukraine, there were undercurrents of change. And, as McKinsey has pointed out, global demand is shifting, too, with emerging markets becoming increasing consumers of goods and significant consumer markets now spread around the world, not just in the advanced economies. How the world adapts to these shifts in production and consumption will have far-reaching and long-lasting implications.
Also, many in the industry are now talking and writing about regionalization and efforts to build more resilient supply chains. But as Harvard Business Review recently noted, the local infrastructure in many regions isn't there yet, and companies will still need to work to make their global supply chains more resilient.
How will FourKites help solve these problems?
In simplest terms, the industry is on a journey toward prescriptive management of supply chains, and FourKites is at the forefront of that shift. We began by helping our customers with reactive management, "Where's my truck?" then quickly moved to proactive management, "Here's an on-demand view of my truck," and now provide predictive management, "My truck will arrive in 12 hours and 36 minutes." Ultimately, FourKites will be able to prescribe actions to take to ensure the timely arrival of shipments, regardless of origin, mode or destination. To get there, we continue to expand our data network and our capabilities to create the most comprehensive supply chain intelligence platform.
Today's supply chains are fragmented. There is no end-to-end orchestration layer. A good comparison would be the customer relationship management space. When you think about CRM, there's one company that comes to your mind: Salesforce. But when you think about supply chain, can you think of a single company that is solving supply chain problems? No. We want to be that company. We're not there yet. We are providing basic supply chain visibility, but to create that orchestration layer, you need to provide contextual, intelligent applications, using real-time data. That's the future of supply chain: creating an interconnected supply chain using real-time data, where you can predict what's going to happen, you can predict the disruptions, you can prescribe solutions, and you have applications that can really take those recommendations and act on them. That's the future of FourKites.
In Part 2, we talk to Elenjickal about recent big news for his company, the future of supply chains, and his advice for founders.
* All opinions expressed in this blog are solely from Mathew Elenjickal.