We live in a world that is always connected, data driven and AI-inspired, where customers and enterprises' expectations are fast evolving. As computing gets embedded everywhere – it is changing the way we interact with people, places and things. And with the rising adoption of AI, there is a need for a distributed architecture that coordinates AI workloads among cloud and edge devices/on-prem data centers, rather than processing in the cloud alone.
Edge is quickly becoming a necessity for AI to help unleash the full potential of big data generated by the unprecedented volume of connected devices. But not everything needs to be processed on the device. We believe the future of AI is hybrid and Qualcomm Ventures is looking to invest in companies that help solve the orchestration problem to deploy modern applications across cloud and edge–both on and near the device.

Enterprise infrastructure and applications have long evolved from legacy monolithic deployments to the microservices and container-based approaches of today. Kubernetes – a cloud native technology, is an open-source platform that has become the de-facto standard for orchestrating containerized applications. Today, more than 80% of enterprises use Kubernetes in production, and across different environments (including the edge). Cloud native architecture has solved a lot of the infrastructure challenges needed to provide high reliability, availability, scalability and portability, but how do you get the same experience at the edge?
The need for cloud-native experiences at the edge is becoming more important – from restaurant/retail chains that are deploying Kubernetes clusters at each of their locations to support modern shopping experiences and business continuity, to fruit picking drones that form a Kubernetes cluster for better resource optimization and rolling upgrades, we're seeing the need across several industries (industrial, auto, telecom, healthcare, retail, federal, gaming, robotics, etc.)
How do you deploy Kubernetes in edge environments where there is limited or no connectivity (air gapped), a lack security, no IT talent and significant resource constraints? And how do you do that at the scale of the edge, decentralized across 1000's of locations? And once you deploy Kubernetes, how do you manage the entire cluster lifecycle and the large fleet of devices in the field? AI further compounds these challenges. Existing solutions were not built to address these challenges. Platform teams today require a new set of tools for managing Kubernetes across the cloud, data centers and the edge. And Spectro Cloud is well positioned to cater to that need and beyond.
Spectro Cloud's Pallette is a leading Kubernetes management platform that enables multiple cluster lifecycle management, existing and new clusters, across any environment – multi-cloud, on-prem, edge or bare metal. When we first met Spectro Cloud we were deeply impressed by the history and caliber of the founding team led by Tenry Fu. Prior to Spectro Cloud, Tenry Fu founded Cliqr along with Saad Malik and Gautam Joshi, which offered products focused on multi-cloud app management. Cliqr was later acquired by Cisco. Now the same founding team is back together to chase a bolder vision – Spectro Cloud's vision is to democratize Kubernetes adoption and to simplify Kubernetes management at scale across any environment.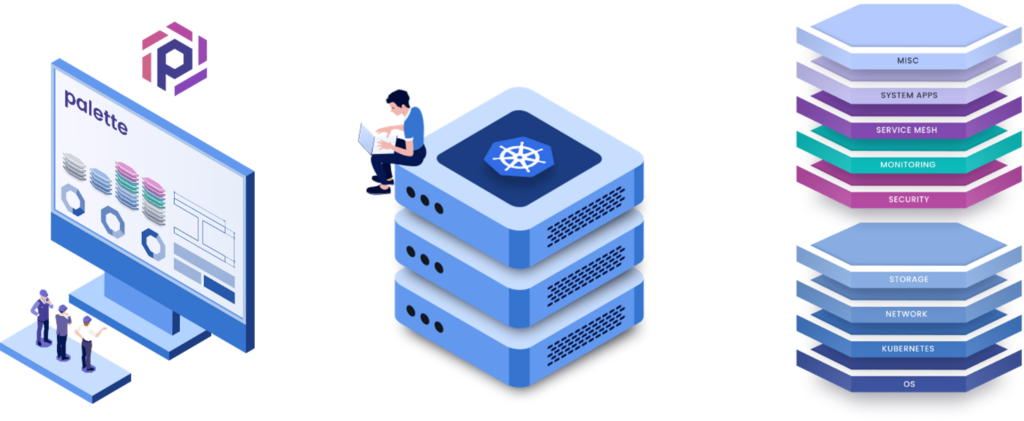 Deploying a single basic Kubernetes cluster, is a solved problem today, but in order for customers to get the most value out of their infrastructure, they need several add-on layers (storage, networking, logging, monitoring, security, service mesh, all the way up the stack to the app services). Spectro Cloud with it's easy to create and repeatable Cluster Profiles can help you deploy and manage 1000's of clusters. They provide more than 50+ out-of-the-box integrations with best of the breed tools within the add-on layers, along with complete cluster lifecycle management, including Day-0, Day-1 and Day-2 operations.
Specifically, their product is well suited for edge environments with zero to low touch device provisioning, the ability to operate in air-gapped environments with limited to no connectivity and easy rolling upgrades with no downtime. Their container backed immutable infrastructure along with their in-cluster orchestration architecture helps them manage edge deployments at scale (1000's of clusters and their flexible declarative model acts as a single source of truth to manage the entire edge stack directly on bare metal hardware without the need for persistent connectivity).
With a user experience that matches that of a consumer app, Spectro Cloud has simplified Kubernetes management for developers without them needing to be an expert. Their platform is being used across several industries with an edge use case including manufacturing, healthcare, retail, agriculture, oil & gas to name a few. And these customers have expanded their initial contracts multifold – which is a testament to their love of the product and clear ROI. And now with their Palette Edge AI solution they are adding important capabilities to help organizations realize the full potential of AI at the edge, at scale.
At Qualcomm Ventures, we believe in partnering with product-led founders with a bold vision. And in Spectro Cloud, we believe they have the right team, vision, and the right market opportunity to succeed. Spectro Cloud is well positioned to tackle the application orchestration problem at the edge across several industries and use cases. We are thrilled to work with Tenry, Saad and Gautam on their mission to democratize Kubernetes and help make Edge AI a reality!