In 2020, Nan Zhou joined the Qualcomm Ventures team in North America, but her story in venture capital begins much earlier.
Zhou knew she wanted to work in VC after her internship at Draper, Fisher & Jurvertson (DFJ) in 2012. "The fundamental value-add in this world is the builder," she says. "And the VC's job is to identify and nurture the real builders in the world." But she also knew, as a young MBA student, that she didn't have the right experience yet to be a successful venture capitalist. "To add value," she continues, "you must bring the qualities of a 'hunter-farmer-rainmaker'. The younger version of myself didn't possess that combination of traits."
So, she set out to groom them.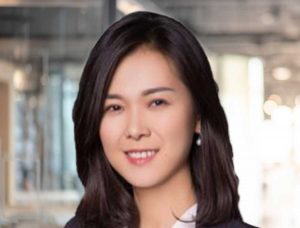 Zhou was born in China and moved to the United States at 19 years old. Realizing she could leverage her background to develop expertise in Asia and the U.S., she moved to Hong Kong for an investment banking job after obtaining her Wharton MBA in 2013. She worked on tech IPOs, learned about the trajectory of fast-growing technology companies, and in doing so, realized that artificial intelligence was poised to disrupt just about everything. And that provided her route into venture capital.
We recently spoke with Zhou for the first installment of our new blog series, "meet the team".
1. What is your role at Qualcomm Ventures, and what led you into venture capital?
I am an investment director at Qualcomm Ventures, and my focus is on core artificial intelligence (AI) and applied AI. I am passionate about finding the smartest founders that are developing innovative machine learning (ML) tools and algorithms or building applied AI use cases with the potential of transforming industries. 
I went to Asia in 2013 as an investment banker and was lucky to catch the mobile internet trend in China. I witnessed the exponential growth of mobile internet giants, such as Alibaba, JD.com, Meituan, and worked on successful IPOs. On the other hand, I also experienced several failed IPOs, from companies that were either shallow on their tech moat or lacked a sustainable business model. By 2016, the AI wave was rising. I dedicated time to teaching myself about transformational tech and interacting with people in the AI field based in China and the US. When Baidu, one of China's AI front-runners, offered me a role in corporate venture investment in the US, I returned to Silicon Valley, the heart of VC and the gravity center of AI. Now at Qualcomm Ventures, I am grateful to work at a top-notch Corporate Venture Capital arm, which has allowed me to connect the dots – the combination of software vs. hardware knowledge, Cloud AI vs. Edge AI, China vs. US. Together, these experiences have shaped me into a solid venture capitalist with a strong global view. I truly have a strong sense of mission to connect the best deep-tech startups in the world with Qualcomm's powerful resources and enabling technology, achieving a win-win situation.
2. Tell us something interesting that people might not know about you.
Over the past few years, I developed a daily routine of practicing mindfulness meditation. After reading scientific research on how the left and right hemispheres of the brain work, I realized that meditation is a great way to bridge both sides of the brain, optimize your full potential, and awaken your deepest internal creativity.
Many of my role models practice meditation, like Ray Dalio, Bill Gates, and of course the late Steve Jobs. Personally, meditation has transformed my life by helping me zoom in faster and improving my intuitive thinking. It also strengthened my focus and helped me remain sharp consistently at work, especially when exchanging insights with startups and helping them find best solutions.
3. What investment areas do you find most exciting, and how do you see them evolving in the next year and beyond?
I'm excited about the fast evolution of AI and its transformational effect. First, AI is converging with 5G, IoT, and advanced edge computing power (driven in large part by Qualcomm Technology, Inc.'s Snapdragon technology). Such "amplified" capabilities of AI are helping transform traditional industries. Second, AI has shifted from model/algorithm-centric to data-centric, with ML-ops tools helping to accelerate the democratization of AI, from ML scientists-only to broader software developers, which has the potential to fuel AI-based digital transformation further. 
Just look at the last two years: The pandemic has accelerated digital transformation. AI has the ability to make mundane work more efficient, allowing us to focus on more innovative and higher value-adding activities.
For example:
In manufacturing production lines, AI takes siloed data and integrates it to generate insights and steps to significantly improve productivity.
Autonomous stores are revolutionizing retail, allowing customers to efficiently make purchases without cashiers.
AI is also playing an important role in solving supply chain issues and healthcare is transitioning to telemedicine, impacting our everyday lives.
4. Tell us about a recent investment and why you decided to invest.
I led an investment in DeepHow, which is an AI powered video-centric platform that accelerates the knowledge transfer in manufacturing and industrial sectors.
In manufacturing, new hires are still learning through paper-based instructions; however, millennials and younger generations prefer to learn through video. To solve this problem, there needs to be a rapid shift to video-based learning tools and content, which is hard to do. 
DeepHow is a fascinating e-learning platform that uses machine learning for video-centric know-how capture and training, helping bridge the skills gap in manufacturing and construction. Through leveraging AI, they can automatically segment video content, index a step-by-step process, and build a searchable library. 
We invested because DeepHow has a growing, sizeable market, a compelling value proposition, and early proof of impressive customer traction. We believe they can truly drive digital transformation in industrial and service industries.
5. What's a practical piece of advice for founders and entrepreneurs?
I'd like to give two pieces of advice I've learned while working with startups and through my experience in venture capital. First, only hire the best people. Typically, it's not easy to hire top tier talent before the Series B round, but founders must push themselves to attract and retain the strongest candidates. When challenges arise (which is often the case when building a company), competent hands can help you navigate difficult times. What are key traits of top talent? Raw intelligence, being a fast learner, having a strong growth mindset, executing well, and strong integrity.
Second, have an experimental mindset and be a hustler. In dynamic, uncertain environments, analysis can only go so far. Entrepreneurs must experiment relentlessly 24/7. We've supported many successful deep-tech entrepreneurs at Qualcomm Ventures who not only devoted tremendous effort to developing frontier tech and analyzing the market, but also hustled to explore their go-to-market strategy, tried different business models, and relentlessly acquired customers. Reid Hoffman also mentions the importance of having these principles in the book "BlitzScaling".