ideaForge, India's pioneering unmanned aerial vehicle company, closed its IPO on July 7, 2023. As I sat in the audience at the listing ceremony, I looked back at our journey together with immense joy. It was almost six years ago that I had the opportunity to lead ideaForge's Series A investment round for Qualcomm Ventures. Since then, I've been fortunate enough to watch firsthand Ankit Mehta, the CEO, and his amazing team transform their vision of "creating cutting edge unmanned aerial systems and driving their adoption" into a thriving enterprise.
Ankit and his team, including VP of Engineering Rahul Singh, CFO Vipul Joshi and VP of R&D Ashish Bhat, connected at IIT Bombay to pursue their dream of building robotics systems, which eventually evolved into the creation of unmanned aerial vehicles (UAVs). Following the tragic Mumbai terror attacks in 2008, the team resolved to create a product that could assist the armed forces during such crises. By 2009 the team had launched India's first fully autonomous drone technology serving homeland security, defense, and civil purposes. Inspired by this achievement, the team became determined to build a full-stack long-range UAV, that would be designed and manufactured in India, capable of withstanding extreme temperatures, be it in the Rajasthan desert or the Himalayas while delivering high-fidelity video. They knew that if they pulled it off, it would be a tremendous technical accomplishment that combined hardware know-how and software mastery, thereby establishing a strong local competitor to existing global players. Industry experts like Vishal Saxena, Amol Suryawanshi, Gireesh Pudipeddi and Ezhilan Nanmaran amongst others joined the team to help scale the business.
At the time, Ankit and his team made some remarkable contrarian decisions. Despite the prevailing trend of startup founders concentrating on software ventures due to the challenges associated with hardware companies and the struggles in securing venture capital funding for such startups, Ankit and his team boldly established ideaForge as a hardware and software systems company. Furthermore, they were determined to manufacture UAVs within India despite its less developed supply chain compared to other potential options. They were also going up against a dominant industry player, DJI, the leading global drone manufacturer. Think about pitching this business for funding!
I have known Ankit since 2012 and had the opportunity to follow ideaForge for a few years before deciding to invest in the company. In my initial meetings with Ankit and his team, I was impressed by the founding team's zeal to pursue their bold vision. The team's infectious passion ignited a collaborative spirit within their board and employees, leading to exceptional engineering outcomes. In addition, we connected on their vision and believed that ideaForge was the best technical team to build such complex hardware and software systems. We also recognized that geopolitical pressures would likely require a local Indian UAV manufacturer and that ideaForge was in a favorable position. In the realm of venture investments, sometimes the most rewarding decisions are the ones that go against conventional wisdom. While investing in a complex systems company in a market with strong competitors is a bold bet, Qualcomm Ventures decided to support the team and invest in the company in 2017 along with Celesta Capital, Infosys, and others. Florintree ventures joined us in the follow on financing.
Beyond our investment, we facilitated a conversation with Qualcomm leaders from India, San Diego, and Santa Clara to work closely with ideaForge on the communication and compute technologies needed to enable a long-range UAV equipped with high-fidelity camera capability. Today, ideaForge utilizes Qualcomm Atheros chipsets and is collaborating with Qualcomm Technologies, Inc. on integrating the Qualcomm Flight™ RB5 5G Platform*. This integration holds immense potential to enhance ideaForge's on-board computing capabilities and contribute to the advancement of cutting-edge drones for various applications.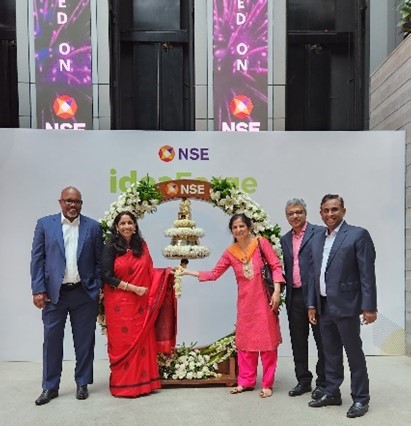 "It has been an incredibly memorable and joyous journey for us, from being a humble start-up to becoming a main board listed company. I am extremely grateful for the unwavering support and partnership we have received from Qualcomm Ventures since our journey together at ideaForge", said Ankit Mehta, CEO of ideaForge. Further he added, "their belief in our vision and commitment to advancing the drone industry has been a strong pillar of support. Qualcomm Ventures' strategic investments and support are helping us to push the boundaries of innovation and develop cutting-edge drone technologies."
As the market bell rings, resonating with the culmination of 17 years of unwavering dedication, it serves as a testament to the power of perseverance and the realization that dreams, against all odds, can triumphantly come true!! It's rare to find a profitable hardware company with only $35M in venture capital raised, listing in the current market conditions.
Congratulations to the ideaForge team on achieving this remarkable milestone!

Footnote: *Qualcomm and Qualcomm Flight are trademarks or registered trademarks of Qualcomm Incorporated. Qualcomm branded products are products of Qualcomm Technologies, Inc. and/or its subsidiaries. Qualcomm patented technologies are licensed by Qualcomm Incorporated.