Company: Plume
Headquarters: Palo Alto, CA
Founded: 2015
What does Plume do?  
Plume is dedicated to making wireless internet work well. "Our mission is actually quite simple," says Fahri Diner, the company's founder and CEO. "But there's a lot behind it." Plume's SaaS technology powers the home and small business Wi-Fi services offered by Internet Service Providers—major players like Comcast and Charter in the United States, Virgin Media in the U.K., and countless others. It enables them to offer reliable, secure, high-performance, and easy-to-use wireless internet that operates seamlessly on all types of devices running all types of software. Plume's platform leverages the cloud and Artificial Intelligence to analyze network usage to anticipate bandwidth needs and respond to changing demands, ensuring that its tens of millions of end users get the fast, low-latency wireless service they need, wherever they are in their homes or small businesses. Thanks to its optimized Wi-Fi connectivity, Plume can offer consumers a comprehensive, cloud-based platform featuring an app to manage and personalize services like security and access control across all their devices. "We see ourselves as the CTO of the home," Diner says.
Why did Qualcomm Ventures invest?
Plume started as a consumer products company, creating an adaptive mesh Wi-Fi solution for home users. When Internet Service Providers (ISPs) began providing 'mesh' routers and extenders to their customers instead of consumers purchasing them directly, Plume spotted an opportunity and pivoted to scale up to a SaaS model transforming the company into a pure software play which accelerated its business. Plume also made the strategic decision to open source its device-level software to create OpenSync. This move not only brought greater hardware choice to service providers but also allowed the company to expand its services portfolio to include suites for very small businesses and multi-dwelling units.
Qualcomm Ventures had been following the mesh Wi-Fi space for some time and understood the industry well. This domain expertise helped us recognize that Plume's approach was uniquely well-positioned for their changing market opportunity. "They have a top-tier, turnkey solution that isn't just enterprise-ready but ISP-ready," says Albert Wang, Senior Investment Director, Qualcomm Ventures** who manages our Plume investment. "We understood the broader trends that were supporting the company's growth and they offered the right product solution against very credible competitors." As the IoT revolution continues and the 5G transition gets underway, Plume's technology will enable the smart home systems of the future.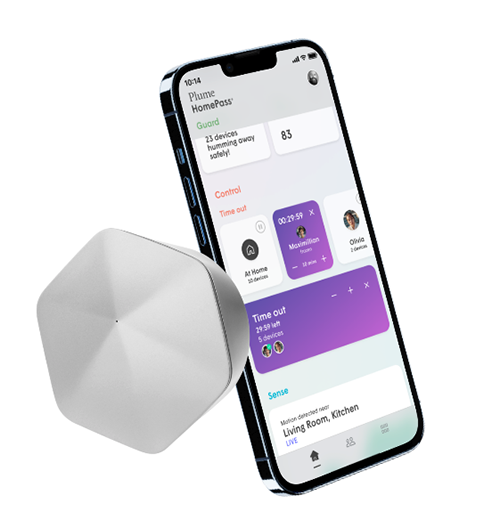 How does Qualcomm Ventures support Plume's growth?
Qualcomm*, says Diner, is "the trunk of the tree from a platform perspective," sitting at the foundation of the wireless networking ecosystem. Qualcomm Ventures helped Plume make connections with equipment manufacturers and leveraged our deep domain expertise to provide market and business guidance. We understand the needs and capabilities of Plume and the bigger picture of its market potential. As a result, we brokered introductions and facilitated conversations for Plume with our internal 5G and Wi-Fi groups that helped to clarify the potential of 5G CPE, and as Plume scaled, they began using our affiliates' WiFi 6 and WiFi 7 platforms. Additionally, Qualcomm qualified Plume's technology for our affiliates' platforms and has embedded the OpenSync software agent on certain devices, making it easier for Plume to deliver a turnkey solution for carriers. This helped accelerate Plume's product development timeline, made the Plume product easier for service providers to implement, and enabled Plume to reach its next growth phase of partnering with smaller service providers.
"Qualcomm Ventures helped Plume make connections with equipment manufacturers and leveraged our deep domain expertise to provide market and business guidance."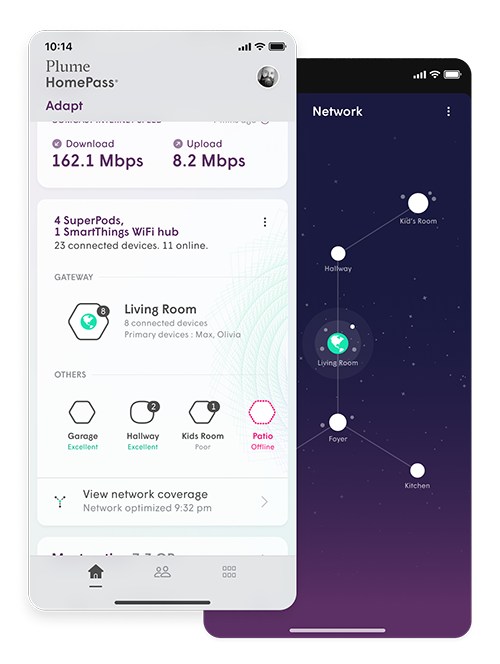 How is Plume succeeding?
When Qualcomm Ventures first invested in February 2020, Plume was serving 14 million locations through 30 service providers. Today, it has a base of over 48 million locations and more than 350 service provider customers—growth that has been enabled by Plume and Qualcomm working closely together. "In the near term, it's all about scaling," says Diner. Then the next step is offering more and better digital experiences to those tens of millions of users.
"It's not only about connectivity," Diner says. "It's also about energy. About health. About wellbeing." Plume's unmatched scale means that it has access to more intelligence, can develop greater insights, and is able to use that knowledge to offer more personalized services, he adds: "We're committed to becoming an invaluable piece of your overall experience at home."
*All mentions of Qualcomm in this blog, refer to Qualcomm Technologies, Inc.
**Albert Wang, Senior Director, Qualcomm Technologies, Inc. and Sr. Investment Director at Qualcomm Ventures.