What if anyone could afford to build customized chips? And what if it was as easy as pushing a button?

A world where anyone and everyone can innovate — this is the reality that SiFive, our newest portfolio company, is helping to create.
SiFive is revolutionizing SoC design by bringing the power of open source and cloud-enabled design automation to the semiconductor industry. As a result, developing hardware is faster and more affordable than ever before. Specifically, SiFive built an online platform for rapidly configuring processor core IP based on RISC-V, the open-source hardware instruction set architecture (ISA).

SiFive's approach is unique, and the payoff is proving successful: More companies are able to design chips, turnaround times are a few months rather than a year or more as is typical, and costs are lower. This success is creating unprecedented growth for SiFive as well. The company's true mission, however, is democratizing innovation, and it's one of the reasons we're so thrilled to work together. We look for companies who are creating the cutting-edge technologies that will shape the future, and we believe SiFive is doing just that.

We chatted with Naveed Sherwani, SiFive President and CEO, about how the company is democratizing the creation of SoCs and enabling innovation across the globe.

SiFive has really been on a rocket ship. What's it been like to watch the company evolve over the past four years?

I've been a part of many startups in my life — this is my 14th. I've seen complete takeoff, but I've never seen anything like this.

I'll give you some numbers: A year and a half ago, we had 40 employees and one design site. Today, we have 450 employees and 15 sites. Getting one or two design wins is a big deal; we have over 100. I can't use their names, but I can tell you that of the top ten and largest semiconductor companies, six of them are our customers.

In terms of team growth, revenue growth, global reach, and number of design centers around the world, I've never been part of anything like this. It really is a rocket ship. It's been a great experience — exhausting, no doubt, but at the same time, one of the greatest pleasures I've had in my life to be part of such an exciting venture. Global demand for SiFive content is massive. Last year, we held our first seminar, and this year we're doing 50 all around the world.

What is the primary problem RISC-V solves for the industry?

I think the biggest issue in our industry has been the lack of innovation. If you go outside of Silicon Valley and San Diego, and maybe Boston and Austin, there's not a lot of innovation in the semiconductor space. And why isn't somebody in Brazil, Egypt, or the Central African Republic building architectures, chips, or systems? It's because the basics aren't available to them. RISC-V solves this by making an ISA widely available. If you want to optimize for low power, you can. If you want more performance, you can have it. It's not one, two, or 10 — it's thousands of people coming up with ideas, and the number of brain cells now working on RISC-V is much larger than any architecture in the history of mankind.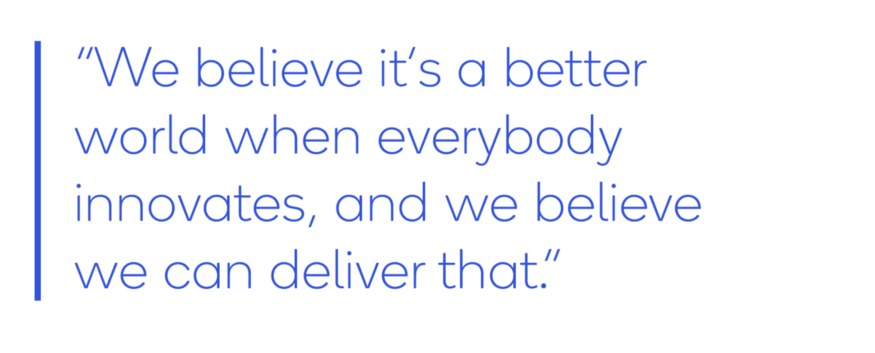 How does the industry change when smaller companies have access to customized silicon? And how is this empowering and enabling a generation of inventors?

We have an easy and inexpensive process for creating custom cores for companies that don't have the ability to build their own chips. Our portal allows you to simply pick the desired template for your SoC, make modifications, and make sure it meets your specifications. Then just push a button and you get the chip two months later. We don't want you to have to hire 40 different experts on your team, have to form relationships with hundreds of companies, and buy thousands of things just to get one single chip done. So we're not just revolutionizing the customization of the cores; we're also revolutionizing how people experience silicon.

What we're trying to do is cut down the cost of innovation, make it possible for people to afford to innovate, and allow them to make quick decisions and fail fast. As a result, more people can bring innovation to the market. As long as you have plenty of people trying, eventually great things happen. We have to democratize innovation.

Are there any trends or predictions you see in the semiconductor industry over the next few years and beyond?

The only way I see the industry thriving is if we can get more young people interested, which is something we're working on. We have development and educational hardware platforms that we will sell at low cost. High school-aged kids can attach it to a laptop, do AI experiments, and learn about RISC-V. They can then share their interesting AI experiments to the cloud and other social media. We're also making it free for all high school and university students in 50 of the poorest countries on the OCED list, because we really want to fuel innovation. We want to spark their interest early, and for these students to come into the workplace already familiar with RISC-V. We believe some will go on to become inventors and innovators.

Why were you interested in working with Qualcomm Ventures?

Qualcomm is an innovator in our industry — one that's charting new trends and direction. Just look at how Qualcomm is powering 5G.

Qualcomm Ventures has a very strong portfolio and carefully selects the companies it works with — companies that are complementary to, and can benefit from, Qualcomm's existing strength and presence in markets and verticals. Qualcomm Ventures also provides access to a world-class platform ecosystem. What we're doing is analogous to the fabless revolution; that revolution created an entirely new sector and made Qualcomm extremely successful. The revolution that we're powering is potentially of a similar scale. Qualcomm Ventures has the ability to help us navigate this hyper growth and industry transformation.

What's next for SiFive? What keeps you energized in your work?

Our goal remains to create a world where thousands of people outside of the silicon area experience silicon. We want innovation to spread all over the world and not just be the entitlement of five or 10 countries.

We believe it's a better world when everybody innovates, and we believe we can deliver that. People make fun of me because I keep saying that I will continue working until two guys in some small village anywhere in the world can design a chip that works for their community. Then true innovation will have arrived on planet Earth.

That's our goal.