From Moscow to the thriving startup scene of Tel Aviv, and now to the bustling business landscape of London, Michelle's journey is a testament to her relentless pursuit of excellence. Michelle immigrated to Israel from Moscow with her family when she was a child. Her early life, shaped by the determination of her Russian immigrant family, instilled in her a drive to excel in every aspect of life, whether it be academics, hobbies, or community activities. This drive led her to a successful career in technology project management, where she excelled in uniting people towards a common goal.
However, her professional trajectory took an exciting turn during her MBA studies. There, Michelle was introduced to the exciting world of entrepreneurship and venture capital, which redefined her career aspirations.
Three and a half years ago, an opportunity arose to join Qualcomm Ventures in Tel Aviv. While she knew she would miss the experience of being a part of a mission-oriented team and the development of exciting new products, Michelle embraced the chance to apply her expertise to the dynamic startup ecosystem. This new role offered her a chance to collaborate with creative founders and innovators, helping shape the future of technology.
Recently, Michelle has relocated to London to lead Qualcomm Ventures' investments in the U.K. She is now immersing herself in the local ecosystem, connecting with founders, and adapting to the dramatically different British weather.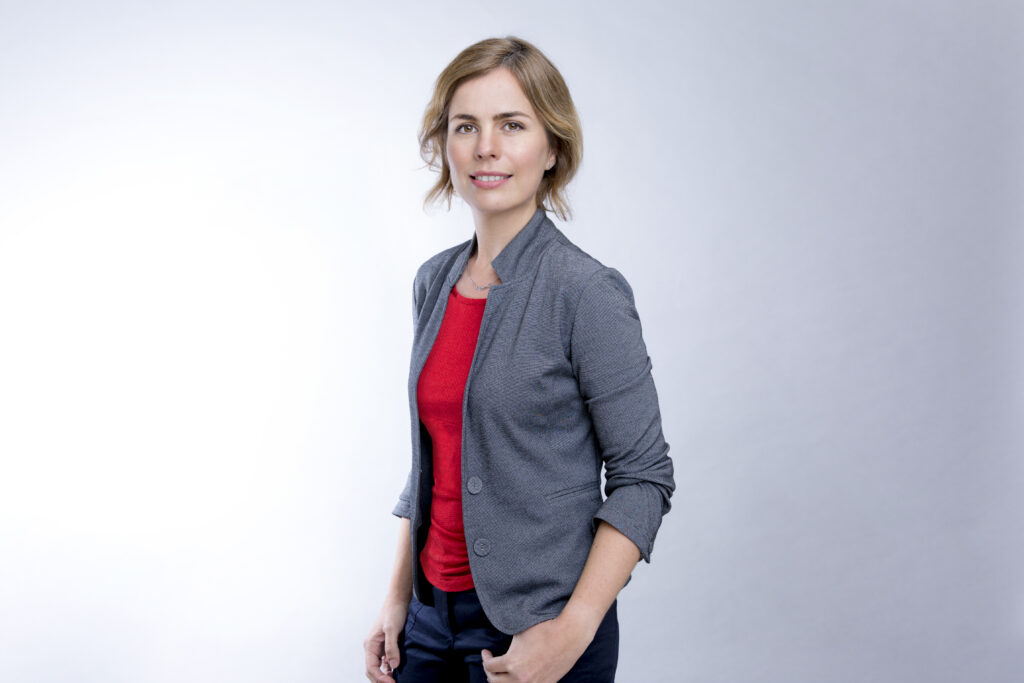 1. What is your role at Qualcomm Ventures, and what led you into venture capital?
I am a senior investment manager at Qualcomm Ventures, my role spans the entire investment spectrum—from sourcing deals to leading investments and holding board positions.
Before Qualcomm Ventures, my career was mostly in operations within various technology companies. I spent many years bridging the gap between developers and business professionals, fostering an environment where great things could be built. During the early days of my career, I was a consultant at a boutique firm, spearheading process improvement initiatives in factories, improving inventory management systems, and even breaking down walls – quite literally. It was an experience as far removed from a conventional office environment as one could get.
Later, I was responsible for implementing program management best practices at Philips Healthcare. I gleaned valuable insights from anyone who held a managerial title in the R&D department and played a pivotal role in shaping the management of CT scanner development projects – complex and fascinating undertakings in their own right.
Then I joined Qualcomm's Research and Development team as a program manager, overseeing the end-to-end development and manufacturing of demo platforms. At the time, these were some of the most advanced and futuristic smartphones and tablets available. Believing I was in the most exciting role at Qualcomm, I decided to pursue an MBA at INSEAD. It was here that my interest in venture capital and entrepreneurship was kindled.
After graduation, I decided it was time to step away from the corporate world and join a start-up. However, just five months into the role, we were acquired by another large corporation – Intel. This acquisition was different in that we continued to operate independently for a long time, within the corporate structure, providing a unique learning experience.
When the chance to rejoin Qualcomm, this time on the Ventures side, presented itself – it felt like the perfect amalgamation of my passions—cutting-edge technology, evolving market dynamics, and most importantly, inspiring people.
2. Tell us something interesting that people might not know about you.
It's not a secret, but beyond my role as an investor, I'm also a mother of two young daughters. In our industry, we often emphasize the importance of being a role model. However, when it comes to parenthood, I've observed that many young women grapple with feelings of guilt over not spending enough time at home, and they continuously strive to find the elusive "perfect" balance, which often seems unattainable. Personally, I believe that this mindset can be more detrimental than beneficial, especially for children. Perhaps my perspective is influenced by my own upbringing, as the daughter of an ER doctor who worked longer hours than I ever will.
I firmly believe that role modeling for boys and girls begins at a very young age. Therefore, I find it important for my girls to understand what I do, why I enjoy it, and the challenges I face. This became increasingly relevant when I decided to move my entire family to a new country in the middle of a school year.
I'm constantly amazed by the conversations I can have with my five-year-old about topics like supply and demand (for chocolates), branding (of toys), or negotiation (which she and her sister often practice as I let them resolve their conflicts).
In a broader sense, as role models, we should also be transparent about the challenging moments and how we navigate them. It's important to communicate that we all encounter difficulties, but we also derive joy from what we do, and we don't just work to earn money (a reason often oversimplified when explaining why parents work). When my daughter chose skateboarding as her current favorite sport, I was delighted (and a bit worried, naturally), because there's no better way to learn that it's ok to fall and get quickly get back up for another attempt.
3. What investment areas do you find most exciting, and how do you see them evolving in the next year and beyond?
Currently, my focus is on the U.K., with plans to gradually extend our reach across Europe. I'm on the lookout for exceptional teams, that have advanced beyond the initial steps in their company building journey and are aligned with Qualcomm's key areas of focus—5G, AI, Automotive, IoT, Enterprise/Cloud and XR.
The buzzword at the moment is generative AI. While it may seem like we're at the peak of a hype cycle from an investment standpoint, I do believe we're on the cusp of a revolution. I personally don't think AI will quickly replace our jobs. Instead, I see it augmenting our productivity and equipping us with various forms of enhanced capabilities to start with.
Still, we are merely at the dawn of this (r)evolution. There's still a significant amount of work needed to fine-tune these tools, enhance the user experience, address potential misuse, and ensure adequate safeguards, to name just a few examples. I foresee a surge of companies emerging with innovative solutions to these new challenges. From a technology perspective, many building blocks are mature enough to be utilized at scale, making it exciting to see which innovative ideas will grow from here.
From an investment perspective, I am particularly interested in the gradual shift of AI workloads to the edge. At present, AI processing is heavily reliant on the cloud, which is not only expensive but also involves extensive data movement, raising security and privacy concerns. I believe the next significant advancement will involve shifting much of this computational load to the edge—or on-device.
Another area that I'm interested in is XR and the entire domain of 3D content and its consumption. Despite it currently being at a low point in the hype cycle, I continue to monitor its progress. For years, a major hurdle in this industry was the lack of content. However, with the increasing use of generative AI in creating spatial content, we may finally be on the verge of the pivotal moment we've been waiting for.
4. Tell us about a recent investment and why you decided to invest.
Last year, I had the opportunity to lead an investment in an innovative company called Tabnine. Long before "generative AI" became a buzzword, Tabnine was already making strides in its development. Tabnine offers an AI assistant for software developers, providing intelligent code completion and suggesting relevant code snippets in real-time.
What truly set Tabnine apart was their deep understanding of the challenges software developers face and their innovative approach to solving them. Initially, they had to evangelize the need for AI in code writing. Today, no one questions this need. Their early entry into the market positioned them to offer a mature and unique product, ready to meet the surging demand from individuals to large corporations in this rapidly burgeoning space.
5. What's a practical piece of advice for founders and entrepreneurs?
In today's challenging macroeconomic landscape, particularly for later-stage startups, it's important to remember that investment funds, like Qualcomm Ventures, are still actively seeking investment opportunities. However, it's equally important to acknowledge that investors are becoming more discerning and selective.
To distinguish themselves in this environment, founders must aim for more than just a satisfactory pitch and presentation materials – they must aspire for excellence and come thoroughly prepared. This involves crafting a compelling pitch deck, delivering a polished and engaging presentation, and demonstrating an in-depth understanding of market dynamics, with a particular emphasis on recent developments.