In Part 1 of this two-part series, Mathew Elenjickal talked about his journey toward becoming a supply chain innovator and how FourKites will solve the biggest problems facing the supply chain today. In Part 2, he explains why his company is partnering with FedEx and shares his thoughts on the supply chain of the future and his advice for other founders.
FourKites recently announced a major investment from FedEx. Tell us about the new product, FourKites X, that you're building together with them.
FourKites X will leverage our entire combined data networks, built on top of FourKites' AI/ML capabilities. It will make FourKites X the largest supply chain intelligence platform in the world, capable of providing customers with highly granular contextual insights that will help them build smarter supply chains.
The FourKites mission is to create that end-to-end supply chain orchestration platform. That's the ultimate goal. To get there, you need to bring together all the different pieces of the supply chain — demand, inventory, supply, logistics, everything. You also need a lot of data to be able to predict supply chain disruptions. At FourKites, yes, we have a lot of customers, we track over 2.5 million shipments a day, and that's great. But when you think about the FedEx network, what they bring to the table is that global scale and massive amount of data. They're touching almost 95 percent of global households. If you want to send something somewhere anywhere in the world, they have data on how to make it happen. Now, when you bring that kind of data and insights onto the FourKites platform, it really enhances the predictions that we can make, and it allows us to rapidly build new products.
FedEx is a formidable force in the logistic space. A 50-year-old company, a hundred billion dollars in revenue, global scale, in basically every country in the world. They could have picked anyone as a supply chain intelligence partner, or they could have built their own platform, but they chose FourKites. So, this is an exciting strategic collaboration for us.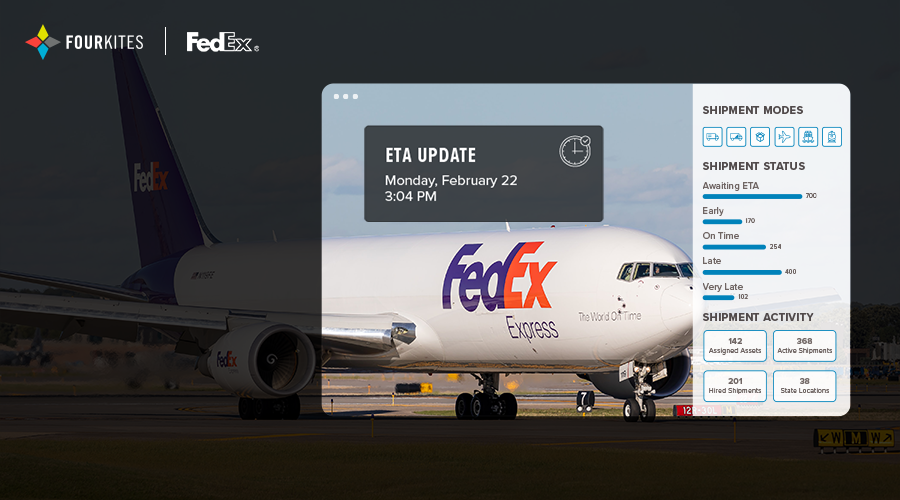 What do you think the supply chain ecosystem will look like in 10 years?
To answer that question, it'll be good to reflect on how supply chains have been impacted in the last 24 months. During COVID we had a demand shock. People were rushing to buy all sorts of day-to-day items, and that created a demand shock that was never seen before. And that demand shock traveled through the supply chain to the suppliers in China, Vietnam, or elsewhere, but it took some time.
Then the suppliers had to increase production, but by that time there were supply shocks, too. Factory outages, some power outages in China, COVID factory shutdowns. Then we had the Suez Canal blockage. And now what's happening in Ukraine. This constant flux of shocks, on the demand and the supply side, has created a perfect storm for how we need to think about the future of the supply chain.
But we believe that in 10 years the supply chain ecosystem will live up to the promise of real-time data and artificial intelligence; further digitization will create richer data, widespread adoption of platforms that aggregate the data will provide actionable insights, and all relevant supply chain platforms will be integrated across every decision-making tool. End-to-end prescriptive analytics will create the more sustainable, predictable and resilient supply chains we desperately need.
Sustainability is increasingly top-of-mind for large corporations. How does FourKites think about sustainability, and are you taking any action to help customers decarbonize their supply chains?
Technology companies are the connective tissue of the global business apparatus. We are in a better position to drive and facilitate change than even the world's governments. For FourKites, we are uniquely positioned in that our product can, by definition, help companies decarbonize their supply chains. We often say you can't change what you haven't measured, and real-time visibility is the best measurement tool.
In fact, we recently announced a new Net Zero initiative to help the world's leading companies achieve their organizational goals to reduce supply chain emissions. As part of this announcement, we unveiled the Sustainability Hub, a suite of analytics tools to provide better visibility into resource consumption and waste generation; a new Sustainability Advisory Board; and ongoing original research around sustainability.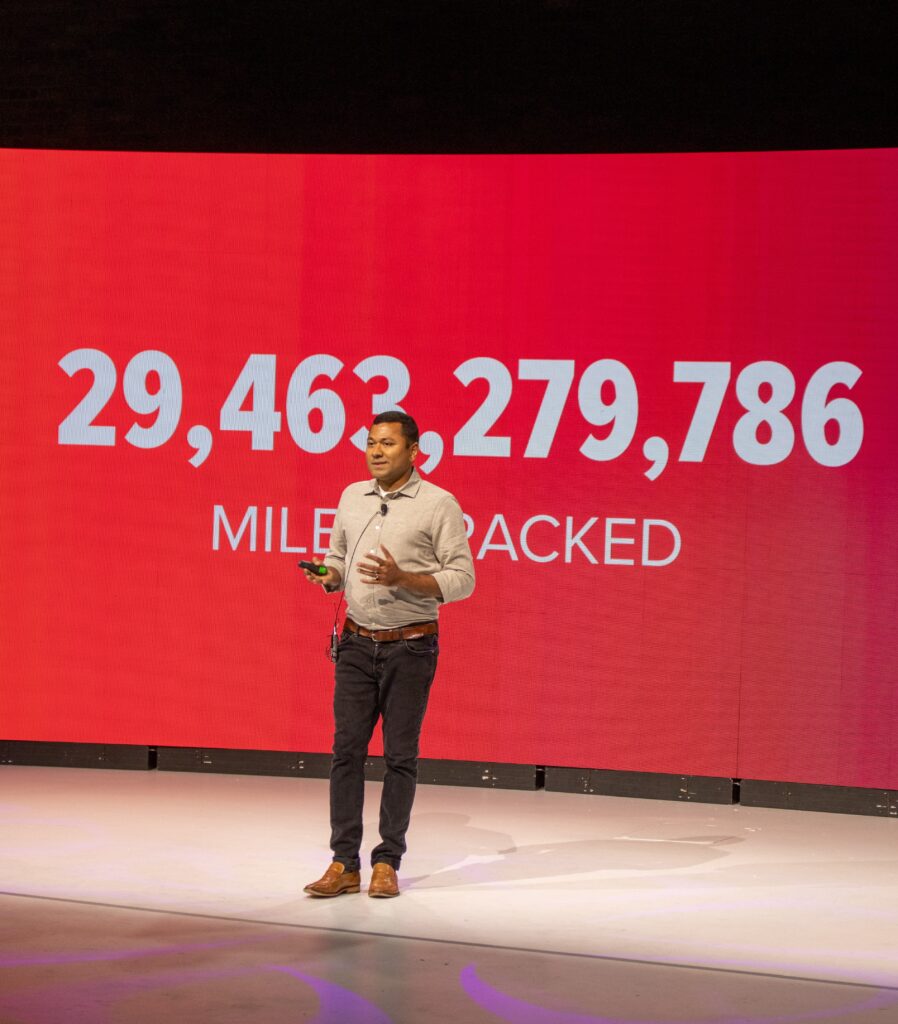 You've used the motto "Always be innovating." How does that play out at FourKites?
A desire to co-innovate alongside our customers is central to our product development philosophy, and really our business strategy as a whole. We have a long history of working with customers to drive innovation and provide solutions for their most pressing pain points. To date, more than 100 capabilities in FourKites' platform are the result of co-innovation with customers, including multimodal order visibility, developed in close partnership with Meijer, and courier tracking, which was co-innovated with Cardinal Health.
Co-innovation is even baked into our online customer community. The IdeaExchange is a feature within our community where customers can request new features and product enhancements, upvote other customers' ideas, and help guide FourKites' product roadmap toward the projects that will deliver the greatest real-world value to our customers.
Who has influenced you the most in life?
A lot of people. This is my first startup, and I wouldn't be here without a lot of support along the way. So first, my dad, who used to run a small business. I think it was in my blood to start something on my own. Then, when I started my MBA at the Kellogg School at Northwestern, I met the professor who leads their entrepreneurship practice, Linda Darragh. My first week at school, I told her I wanted to start a company. And she started connecting me with all these different resources within Kellogg, in the fiscal ecosystem, and in the local startup ecosystem. Linda played a key role in really getting everything started.
And I was also fortunate to have some great operators by my side. When you have people who have been through this journey, you'll make mistakes, for sure, but they'll help you recover fast or maybe avoid some mistakes. I was fortunate to have two great operators among my early investors, both in Chicago. The first is Jai Shekhawat. He started a company called Fieldglass, sold it to SAP for over a billion dollars, and now he is giving his time to the local community. He's on my speed dial anytime I need something. The second is Joe Beatty. He's also another local startup founder, retired, and now he's on the FourKites board. I've been really fortunate to have these great, great guys around me to really guide me on this journey.
What is the greatest lesson you've learned as a founder?
I wish I had made the pivot from founder-led sales to value-led sales a bit earlier than we did. Initially, it's all founder-led sales. You're the main sales guy out there. The founder is doing the selling, and it tends to be feature-function sales because we're all product-oriented. But at some point, you have to transition from that into value-based selling. You need a professional team and the right leader to guide that transition. The people who guide you in the earliest stages might not be the right leaders as you scale the company. Founders have to take a step back at that point and let those sales leaders do their thing. The thing I ask my CRO and CMO now is, "How can I help?" That's the only way to scale the go-to-market function. You also have to stop being the idea guy and transition to being the conductor of the orchestra.
Finally, why the name "FourKites"?
Four is the four directions—north, south, east, west. And a kite is high up in the air, providing clear visibility to everything, everywhere.
* All opinions expressed in this blog are solely from Mathew Elenjickal.